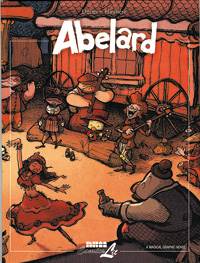 Books translated from French. Books that are part comic book, part movie companion. Stories about socially-vulnerable young adults. Stories that preserve all of Alan Moore's original dialogue. These are just some of the highlights from reviews written for July's Staff Picks.
Tim Lenaghan, Sarah Martinez, Jay Spence, Heather Wiegand, and Steve Leaf put on their thinking caps, and give us the goods on some of the most original and imaginative books that will appear in the upcoming July PREVIEWS catalog, on sale at comic shops June 27.
That's the good news.
Now here's better news: you can read these reviews on PREVIEWSworld first on Sunday, June 24th. Just click on the below links to get the latest additions to Staff Picks!
Abelard
Dark Country
Drama
Fashion Beast #1
Rachel Rising #11
Woodwork — Wallace Wood 1927-1981 HC
So if you're the type that likes to have the morning coffee while you pour over news via the laptop, tablet, or computer, check out July's Staff Picks on PREVIEWSworld!