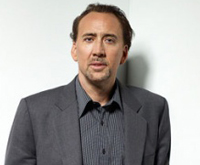 Actor Nicolas Cage's stolen copy of Action Comics #1 set a record auction price, and is the first comic book to sell for more than $2 million at auction.
Cage first bought the comic in 1997 for about $150,000. But the comic was later stolen from Cage's house in 2000. It is said that the book was found in a storage locker this past April. Experts say it is the highest publicly-graded copy of Superman's first appearance to date.
Five other copies in private collections are said to be the only copies near-equal quality to Cage's book. The total sale for the comic (with a CGC grade of 9.0) was $2,161,000.
The previous record for a sale of Action Comics #1 was for $1.5 million, sold in March 2010. Approximately 100 copies of Action Comics #1 are said to be in the current market.