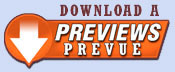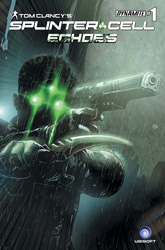 Publisher: Dynamite Entertainment

(W) Nathan Edmondson
(A/Cover) Marc Laming
Sam Fisher, once a Splinter Cell — clandestine operative operating in the shadows of the NSA — is now retired. His enemies, however, are not. Haunted by dreams and memories of his past, he struggles to put his life back together. But when a mysterious terrorist organization called KROWE begins pursuing targets around the globe, Sam's expertise is needed to uncover their endgame and stop them before the deadly plot unfolds.
Echoes takes place between the events of Splinter Cell: Conviction and Splinter Cell: Blacklist. The series bridges the gap between the two games with a realistic, original story that sets the tone for the opening events in Splinter Cell: Blacklist!
---
Item Code: MAY141264 In Shops: 7/2/2014 Price: $3.99

---
Are you following PREVIEWSWorld on Twitter yet?