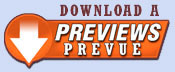 Publisher: Dynamite Entertainment

(W) Frank J. Barbiere
(A) Joe Bennett
(Cover) Juan Doe
An All-New Corner Of The Gold Key Universe! "This all started with an accident..." Flooded with experimental radiation that grants him unbelievable powers, the brilliant-and-obsessive Dr. Phil Seleski seeks to unlock the secrets of the universe, begrudgingly becoming a "hero" along the way. But can a single man be trusted with near-limitless abilities?
---
Item Code: FEB141125 In Shops: 4/16/2014 Price: $3.99

---
Are you following PREVIEWSWorld on Twitter yet?