In Comic Shops 3/26/2014: Protectors Inc. #5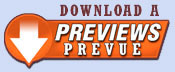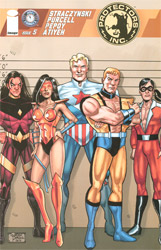 Publisher: Image Comics/Joe's Comics

(W) J. Michael Straczynski
(A) Gordon Purcell, Andrew Pepoy
(Cover) Gordon Purcell
In every good mystery, there's a moment when the detective confronts the suspects to try and figure out which of them is the killer. But generally speaking, the suspects aren't powerful enough to fly you five miles straight up, rip off your limbs, and drop you into the Atlantic. That's the problem faced by Lieutenant Detective John Riley, when he finally comes face to face with the Protectors, one of whom may have murdered the Huntsman. Meanwhile, an autopsy on a woman presumed to have died in a boating accident reveals a grisly connection to the Protectors. Mature Readers.
---
Item Code: JAN140609 In Shops: 3/26/2014 Price: $2.99

---
Are you following PREVIEWSWorld on Twitter yet?