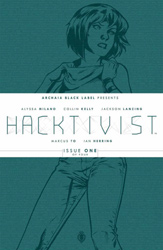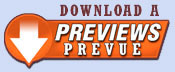 Publisher: Archaia Entertainment

(Creator) Alyssa Milano
(W) Jackson Lanzing and Collin Kelly
(A/Cover) Marcus To
From the creative mind of Alyssa Milano, with artist Marcus To (Huntress, Red Robin), and writers Jackson Lanzing and Collin Kelly, Hacktivist is a fast-paced cyberthriller about friendship and freedom in a time war. With fantastic characters and stunning action set pieces, the story is about Ed Hiccox and Nate Graft, two young and brilliant cofounders of YourLife, a social networking company that has changed the way the world stays connected. In secret, these best friends are also "sve_Urs3lf," the largest, whitehat hacking group on the planet, exposing information and sparking revolutions across the globe. Mature Readers.
---
Item Code: NOV130890 In Shops: 1/22/2014 Price: $3.99

---
Are you following PREVIEWSWorld on Twitter yet?