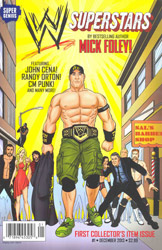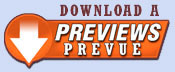 Publisher: Papercutz/Super Genius

(W) Mick Foley
(A) Alitha Martinez
(Cover) Alitha Martinez & Various

"Pandemonium Squared," Part 1 of 4. WWE Hall of Famer Mick Foley brings us an all-new adventure straight from the world of WWE's powerful, ongoing clashes. It all starts with a fierce battle between WWE Champion John Cena and Mark Henry, but quickly turns into all-out chaos! Soon virtually every WWE Superstar faces off in a no-holds-barred brawl to end it all. But what has caused the wrestlers to virtually go berserk? Can Vickie Guerrero and Booker T manage such chaos, or will Mr. McMahon have to step in? Featuring CM Punk, Fandango, Sheamus and more!
---
Item Code: OCT131279 In Shops: 12/11/2013 Price: $2.99

---
Are you following PREVIEWSWorld on Twitter yet?