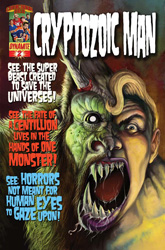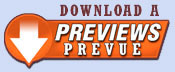 Publisher: Dynamite Entertainment

(W) Walter Flanagan, Bryan Johnson
(A) Walter Flanagan, Chris Ivy
(CA) Walter Flanagan
After landing in jail, Jack Gimlin is bailed out by a mysterious industrialist who offers him the job of a lifetime...tracking and trapping the world's most famous cryptids, who also happen to be portals to alternate dimensions. Meanwhile, the fur flies when Cryptozoic Man learns the fate of a loved one during a cosmic tea party.
---
Item Code: SEP131102 In Shops: 11/27/2013 Price: $3.99

---
Are you following PREVIEWSWorld on Twitter yet?