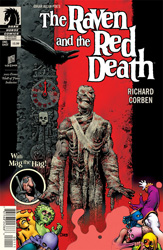 Publisher: Dark Horse Comics
(W/A/Cover) Richard Corben
Unwelcome and bloodthirsty guests are on the move in these two terrifying Poe stories presented by Eisner Hall of Fame inductee Richard Corben. If you're a fan of Corben, then you know he won't be pulling punches on these two tales of terror that will freeze your spine, and leave you speechless.
---
Item Code: AUG130095 In Shops: 10/30/2013 Price: $3.99

---
Are you following PREVIEWSWorld on Twitter yet?