In Comic Shops 3/27/2013: B.P.R.D. — Vampire #1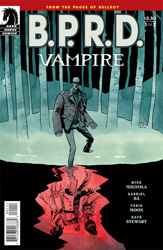 Publisher: Dark Horse Comics

(W) Mike Mignola & Various
(A) Fábio Moon, Gabriel Ba
(Cover) Fábio Moon, Dave Stewart
After the horrific events of B.P.R.D.: 1948 we follow one doomed agent's quest for revenge against a clan of vampires and their Gorgon-eyed queen Hecate. Moody, brutal, and terrifying. What else would you expect from Mike Mignola and company?
---
Item Code: JAN130076 In Shops: 3/27/2013 Price: $3.50

---
Are you following PREVIEWSWorld on Twitter yet?