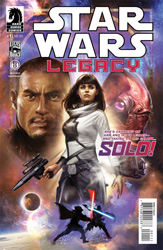 Publisher: Dark Horse Comics

(W) Corinna Bechko, Gabriel Hardman
(A) Gabriel Hardman
(Cover) Rachelle Rosenberg, Dave Wilkins

Despite her famous heritage, Ania Solo is just a girl trying to make her way in a galaxy gone bad.
But it all gets worse when she comes into possession of a lightsaber and an Imperial communications droid - and discovers she has been targeted for death!
---
Item Code: JAN130110 In Shops: 3/20/2013 Price: $2.99

---
Are you following PREVIEWSWorld on Twitter yet?