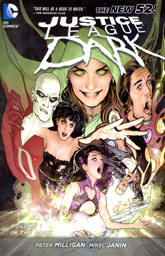 Publisher: DC Comics


(W) Peter Milligan
(A) Mikel Janin
(CA) Ryan Sook

The Enchantress has unleashed a wave of chaos across the globe! Shade the Changing Man, Madame Xanadu, Deadman, Zatanna, Mindwarp and John Constantine may be our only hope.
But how can we trust beings whose very presence makes most people break out in a cold sweat? Collecting Justice League Dark #1-6!
---
Item Code: JUL120211 In Shops: 10/10/2012 Price: $14.99
---
Are you following PREVIEWSWorld on Twitter yet?