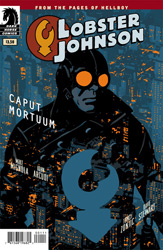 Publisher: Dark Horse Comics
(W) Mike Mignola, John Arcudi
(A) Tonci Zonjic
(Cover) Tonci Zonjic, Dave Steward
Old school rough-and-tumble action high above the ground. Hellboy's favorite gun-blazing vigilante takes justice to the skies this time by getting locked in spectral combat aboard a zeppelin! Will the Germans knew what hit them?
---
Item Code: JUL120053 In Shops: 9/19/2012 Price: $3.50
---
Are you following PREVIEWSWorld on Twitter yet?