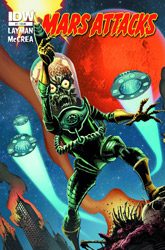 Publisher: IDW Publishing
(W) John Layman
(A) John McCrea
(Cover) Wally Wood & Various

The invasion begins! The first stories of an all-new Mars Attacks universe are here, bringing outrageous action and dark humor to the comics page.
Eisner-winning writer John Layman (Chew) is joined by Eisner-winning artist John McCrea (Hitman) to sound the alarm. Beware! The Martians are coming!

Item Code: APR120315
Price:$3.99
PREVIEWS Page #150
In Shops 6/20/2012
Are you following PREVIEWSWorld on Twitter yet?