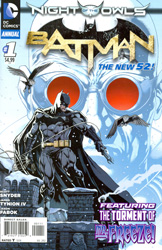 Publisher: DC Comics

(W) Scott Snyder
(A/Cover) Jason Fabok

History in the making. Yes, friends of the Dark Knight, this is a chapter in the life of Gotham's crimefighter you want to bookmark: Mr. Freeze is introduced to The New 52!
What is Mr. Freeze's relationship to the Court Of Owls? Is he an ally - or do they want him dead? "Night Of The Owls" continues here!

Item Code: MAR120188
Price: $4.99
PREVIEWS Page #93
In Shops 5/30/2012
Are you following PREVIEWSWorld on Twitter yet?