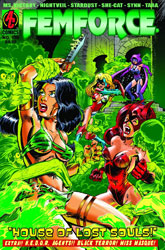 Publisher: AC Comics
(W) Mark G. Heike & Various
(A) Will Meugniot & Various
(Cover) Will Meugniot
The Femforce find themselves in Europe, pulled into the fight of their lives against an alliance of human and supernatural foes in "House of Lost Souls," while Will Meugniot's smash sensation back-up feature N.E.D.O.R. Agents must face "The Menace From Within"! Plus - Pyrogirl solo! 84 pages of all-new action!

Item Code: JAN120781
Price: $9.95
PREVIEWS Page #232
In Shops 5/23/2012
Are you following PREVIEWSWorld on Twitter yet?