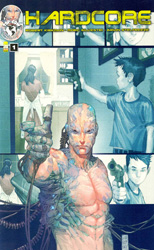 Publisher: Image Comics
(W) Robert Kirkman
(A) Brian Stelfreeze
(Cover) Marc Silvestri

From the creative minds of Image partners Robert Kirkman & Marc Silvestri! Once the hard core is shot into the back of your neck, an assassin's brain waves can be transmitted into your body--circumventing your brain functions--taking complete control of your body. When assassins use this technology--your killer can be anyone; your barber, your neighbor or your wife. They are the best assassins in the world--but what happens when one of their own turns against them? Who can you trust when your enemy can change his appearance as easy as someone changes a shirt?

Item Code: FEB100414
Price: $2.99
PREVIEWS Page #174
In Shops 5/16/2012
Are you following PREVIEWSWorld on Twitter yet?