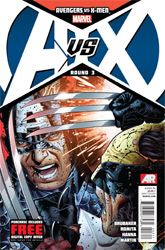 Download the Prevue
Publisher: Marvel Comics
(W) Ed Brubaker
(A) John Romita
(Cover) Jim Cheung
The Avengers and the X-Men scour the Earth searching for the host of the Phoenix! Hope takes matters into her own hands! And Captain America and Wolverine come to bitter blows!

Item Code: MAR120530
Price: $3.99
MARVEL PREVIEWS Page #3
In Shops 5/2/2012
Are you following PREVIEWSWorld on Twitter yet?