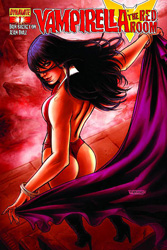 Publisher: Dynamite Entertainment


(W) Daniel Brereton
(A) Jean Diaz
(Cover) Daniel Brereton & Various
Written by Dan Brereton (Nocturnals, The Last Battle, Punisher: Frankencastle, Red Sonja)! Vampirella and a colorful driven lawman track vampires on a blood-letting rampage through rural Arkansas to the Red Room, an underground circuit where high rollers stage mortals vs. monster death matches. She faces a host of fiends, quickly realizing more arcane forces drive the bouts and their frenzied combatants, enhanced with a powerful, corrupting essence, firmly stacking the odds against Vampirella surviving the night.

Item Code: JAN121000
Price: $3.99
PREVIEWS Page #279
In Shops 4/25/2012
Are you following PREVIEWSWorld on Twitter yet?