This April, Marvel's new comic book event, Avengers vs. X-Men (AvX), will pit Earth's Mightiest Heroes against the Children of the Atom for 12 can't-miss issues. If the drawing power of the characters weren't enough, the story comes courtesy of writers Brian Michael Bendis, Jason Aaron, Jonathan Hickman, Ed Brubaker, and Matt Fraction and artists John Romita Jr., Olivier Coipel, and Adam Kubert.
But what about behind the scenes? How did this idea come together? What impact will AvX have on the landscape of the Marvel Universe? For insights, PREVIEWSworld turned to Axel Alonso, Marvel Editor in Chief, and Tom Brevoort, Marvel Senior Vice President and Executive Editor.


---
PREVIEWSworld: Looking at the Marvel events in the past decade, it always seems like a lot goes into aligning everything in the Marvel Universe to set the stage for the story. How long have you been paving the way for Avengers vs. X-Men?  Can you give us any behind-the-scenes insights into how this event was first pitched or conceived? 
Axel Alonso: For years, we've known that Cyclops and Wolverine were due for a reckoning that would divide the X-Men into two philosophically opposed teams.  We also knew that it would help set the stage for a universe-spanning event.  The seeds were all there – including a certain teenage girl with green eyes and red hair who's been hailed as the Mutant Messiah. 
Tom Brevoort: Axel and I have been speaking about the inevitability of an Avengers vs X-Men clash for several years now—dating back to House of M, when most of the mutant population lost their powers as a result of that storyline. It's just taken this much time for us to get all of the stars to align to the point where we think we've got a story to tell worthy of the event.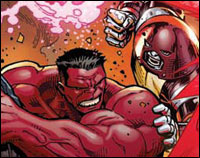 PREVIEWSworld: As editors, you've both overseen numerous titles simultaneously before and have had a hand in many previous events. How does the scale of Avengers vs. X-Men and coordinating all the moving pieces compare to your past experiences at Marvel? 
Alonso: When we've done big events in the past few years – Civil War, Secret Invasion, Fear Itself – the X-Men have played a tangential role. They sat out Civil War, defended their home turf of San Francisco in Secret Invasion, and played a supporting role in Fear Itself.  In AvX, they have an equal stake in everything that occurs. The world's two most powerful super-teams are about to find out, once and for all, who reigns supreme. 
Brevoort: While it's too early to say with absolute certainty, just given the number of moving parts involved, between the number of cast members and the number of creators, I expect that AvX will present some pretty unique challenges. That said, I've overseen a large number of event series at this point, so I'm confident that, with the assistance of X-group editor Nick Lowe, I can wrangle the beast that is AvX. 
PREVIEWSworld: Marvel's announced that Avengers vs. X-Men will be a 12-issue limited series shipping twice monthly. Can you tell us how you currently plan to approach mini-series and tie-ins with ongoing series for this event? 
Alonso: The event will ship biweekly, and we'll have far less tie-ins that we traditionally do, focusing on core titles that have a direct link to the series – like Avengers and Uncanny X-Men. 
Brevoort: While we're going to have tie-ins, we're going to be very limited and selective in their scope. Outside of one special "sister title" to AvX proper, we're planning for just about all of our tie-in material to take place within the core series we're already publishing—and even there, to be largely limited to the assorted Avengers and X-Men titles. That doesn't mean that there might not be one or two other oddball AvX tie-ins along the way, but the vast majority of the tie-in stories will be told in books like Avengers, Uncanny X-Men, New Avengers, Wolverine & the X-Men, and so forth.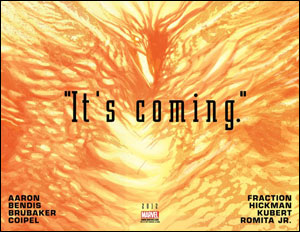 PREVIEWSworld: In the announcement, you mention that the Avengers and X-Men are taking very different stances on how to approach the coming of the Phoenix Force. For the X-Men, however – recently split in the fallout of Schism – is this something that unites the Blue and Gold teams? Or are the two factions in disagreement about how to handle the dilemma? 
Alonso: One thing that excites us about this event is that both sides – the Avengers and the X-Men – have understandable and defensible positions. There isn't a clear-cut bad guy. Does this mean that Cyclops and Wolverine will put apart their differences and unite against a greater threat? You'll have to read it to find out. 
PREVIEWSworld: You've assembled some of Marvel's biggest writers for this project: Brian Michael Bendis, Jason Aaron, Jonathan Hickman, Ed Brubaker, and Matt Fraction. How did you decide your approach to the plotting and scripting responsibilities on this? 
Brevoort: We met as a group on two or three occasions to hammer out the overall series. From there, primarily Jason and Brian hammered out an outline of the twelve issues, which everybody else then weighed in on and gave comments back on. And once we had that in a certain amount of shape, the individual assignments for each issue were handed out, and each write wrote the issues assigned to him – which also went out to the rest of the group for oversight and commentary. In this way, we were able to maintain most of the individual voices and tone of each writer while having an overarching story that holds together narratively. 
PREVIEWSworld: You complement the writing talent with fan-favorite artists John Romita Jr, Olivier Coipel, and Adam Kubert. What is it about these three that made them the ones you wanted on this story?

Alonso:  JRJR, Olivier and Adam are artistic juggernauts.  All three excel at subtle storytelling and widescreen action.  Their work will knock your socks off. 
Brevoort: John, Olivier and Andy are three of the most dynamic artists working in the field today, and all three of them know how to both bring the big—the sense of scale and widescreen action—as well as the small—the more intimate character moments that typically define a series such as this. And all three of them have a lot of experience with most of these characters. 
PREVIEWSworld: Obviously this event deals with an enormous cast, but are there any characters you expect to steal the show or that readers should keep an eye on?

Alonso: Well, without giving too much away: Captain America, Cyclops, Iron Man, Wolverine, Scarlet Witch, Hulk, Iron Fist, Hawkeye, Emma Frost and Hope all emerge as major players in the story.  Oh, and Nova will play a role…. 
Brevoort: The most obvious character to watch would be Wolverine, whose loyalties are torn right down the middle from the get-go. 
PREVIEWSworld: Finally, any other teasers or comments for fans and retailers?

Alonso: This event will feature the biggest Avengers team ever assembled.
April's Avengers vs. X-Men #1 will be advanced solicited in the January edition of Marvel Previews along with the special Avengers vs. X-Men #0 prologue that will be released in March. Illustrated by Frank Cho, that prologue will feature two stories – one by Brian Michael Bendis dealing with the Scarlet Witch and the other by Jason Aaron that focuses on Hope Summer. Each issue of the Avengers vs. X-Men limited series will include a code for a free digital copy of that issue on the Marvel Comics app at no additional cost to fans or retailers.