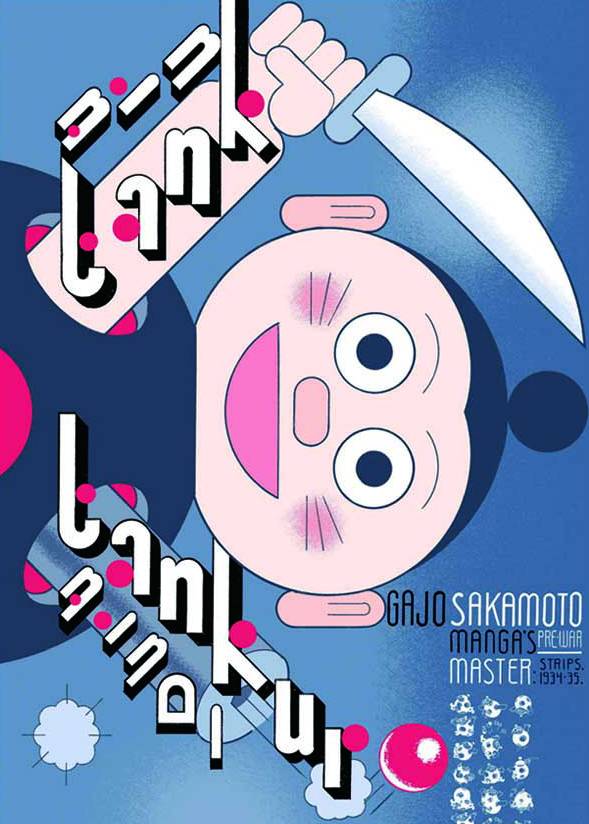 First published in 1934, Tank Tankuro, written and illustrated by Gajo Sakamoto, followed one of the most famous manga characters during the time, lining up next to Norakuro. He is said to be one of the first robots ever to appear in Japanese manga and may be the first "superhero" in manga. Tank Tankuro also influenced many manga artists, such as Shigeru Sugiura, Osamu Tezuka, Fujio Fujiko and more, and is the foundation stone from which many masterpieces of manga art would spring. 
Tankuro became the archetype for various Japanese manga heroes that followed. This work is famous for its innovative and captivating adventure stories full of surrealism, nonsense, innocence, absurdity, and eccentricity. But it was lost in the turmoil of World War II. Now this hidden gem of Japanese manga treasure is revived in full color with Presspop's deluxe Tank Tankuro HC with Slipcase (MAR111224, $29.95), featuring a beautifully designed cover by Chris Ware, author of the graphic novel Jimmy Corrigan, the Smartest Kid on Earth, the Rusty Brown series, and a monthly strip called "Building Stories." Chris is also known for his work that appeared in Acme Novelty Library, featuring characters like Quimby the Mouse.
In the brief interview below, Ware—who contributed the cover for the new book—talks about Sakomoto's style and how his work stands apart from other robot manga. An excerpt from the new hardcover's "This is How I Created Tank Tankuro," written previously by Gajo Sakamoto, follows the interview.
---
Chris Ware Interview

What did you think when you first read Tank Tankuro? What did you find interesting about it? 
Chris Ware: Firstly, it reminded me of Suihō Tagawa and Shigeru Sugiura's work, both cartoonists I love, and both from the era before comics had become influenced by cinema and film. Sakamoto's pages seemed wonderfully energetic, almost willfully naive and playful, yet also strangely dire, given their overriding military theme. The immediate Western association I saw was with cartoonist Milt Gross—of the so-called "screwball" school—whose work captured the slam-bang of vaudeville, Yiddish humor and never took itself seriously, while at the same time getting at some of the common frustrations and societal anger that "higher arts" don't necessarily directly address. Gross's frenetic, loopy pen style is analogous somewhat to Sakamoto's, and I get the same sort of feeling of hectic happiness when looking at their work.
Tank Tankuro is said to be the pioneer of science fiction robot manga from Japan, which became the roots for other, more well-known manga to follow, such as "Astro Boy" and "Doraemon." Like the authors of such manga, were you inspired by Sakamoto's style? 
Ware: Tank Tankuro seems like a fanciful comic strip aimed at a children's readership, governed more by a kid sort of logic than seriously predictive and somehow predicated on accepted laws of technology and science, as science fiction tries to be. It feels more metaphorical and fun than anything else. Though I'm no comics scholar, but I could certainly see the connection to "Astro Boy," etc. Tank Tankuro seems to have an identity all its own, however, and Sakamoto deserves to be considered on its own terms.
How was it working on the cover design of Tank Tankuro? 
Ware: I considered it a pleasant diversion and a distinct honor, especially when I found out that Sakamoto's son was going to be involved. I feel a tremendous respect for any visionary cartoonist of bygone days and, if given the opportunity, try to do what I can to dignify or re-introduce what they were doing. Because, more often than not, they were doing it at a time when it wasn't considered especially dignified. Hopefully, I do this without casting it all into an inert sort of museum-y amber.
---
Excerpt from Sakamoto's "This is How I Created Tank Tankuro" Feature: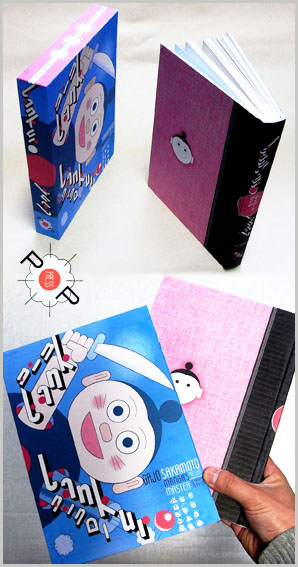 "At that time (around 1932), I was working for a newspaper company: Chugai Shougyou Shimbun (currently Nihon Keizai Shimbun or Japan Economic Times), drawing comic strips for children that appeared in the "Household Topics" section. I think that this serial continued for about 4 and a half years. Manga for children had just started to come forth in those days. This serial was a samurai story, but one day, there came a time when I had to strike out in a new direction, so after much consideration, I came up with my very own "Superman."  I decided to put a human inside an iron ball and make him act in amazing and unheard-of ways. I drew his sketch right away. Once he came into existence, he was very original and wild, and many ideas started to come inside my head, so I had confidence that he would work.  
"Deciding that a four panel comic strip space in newspapers was not enough to let this new character act as he pleases, I decided that he was more appropriate for magazines that allowed more panels. And so, apart from my regular newspaper serial, I deeply expanded on my new idea to come up with a draft. I decided to call the new character "Tank Tankuro." 
"With the draft in hand, I visited the office of Kodansha publishing's Younen Club, a monthly magazine for small children. The chief editor of the magazine at that time was Teiji Fueki. When Mr. Fueki saw my "Tank Tankuro," he exclaimed, "This is it!" It was a very big shout. With his famous gruff voice, he praised my idea saying, "Off-the-wall! Unprecedented!" So I was very much moved. I felt that maybe the expression "Off-the-wall" was saying too much, but Tank Tankuro was certainly a daring "Superman" and very peculiar. He was a round iron ball with a human inside, and he would take out wings to become an airplane to fly in the sky, tires to become an automobile, a drilling machine to make his way through the ground, and a screw to proceed through strong waves at ease. Machine guns, hand guns or what have you, the most appropriate things come out at the most appropriate times. To children, he must have looked like a chest full of toys. Tank Tankuro became a serial right away, and readers continuously sent in letters with questions asking what was inside Tankuro's belly.  
"The opponent of Tankuro, Kuro-kabuto, was also unique. He was wearing a black iron mask that came down to his shoulders. There are holes for only his eyes, and one can't see his face. He was as eerie as a komusō monk (a Japanese mendicant monk from the Edo period) wearing a tengai (straw hat that covered the whole face).  
"So Tank Tankuro started this way, and the fact that he became more and more popular as the serial went on makes me feel more honored than I deserve—and full of gratitude. There was no television at that time, so the dreams of boys and girls had to be realized in children's magazines, and there were no other choices. That's why the role of children's magazines of the time, such as Shōnen Club and Yōnen Club, was far greater than one can imagine now.  
"The other popular manga titles around that time were Suiho Tagawa's Norakuro, Keizo Shimada's Bōken Dankichi, and Shigewo Miyao's Marukaku-san Chyonsuke-san, and they seemed to dominate the children's world. These works were drawn with very high techniques and the contents such as the humor and jokes were sophisticated and had well thought out richness to them. I felt they had a certain depth that the story-driven Yomimono Manga (Sakamoto is most likely referring to the then-new, narrative-centric manga style which was spread by Osamu Tezuka, and gained huge popularity among children after WWII) of today lack. I think the children had a demand for depth that were all their own. It was a period when manga were not skimmed through really quickly just to follow the stories...." 
* Text taken from magazine: Jidō Bungei (published: March 30, 1964.) A longer version of the text will be included in Tank Tankuro: Prewar Works.
---
Presspop's Tank Tankuro: Prewar Works includes not only the Tank Tankuro manga and the 16-page interpretative text written by Sakamoto from which the above excerpt was taken, but an interview in which Sakamoto's son talks about his father, a biography of the author, and a text on pre-war manga. The historical significance of this book makes it a worthy addition to expand your manga collection!