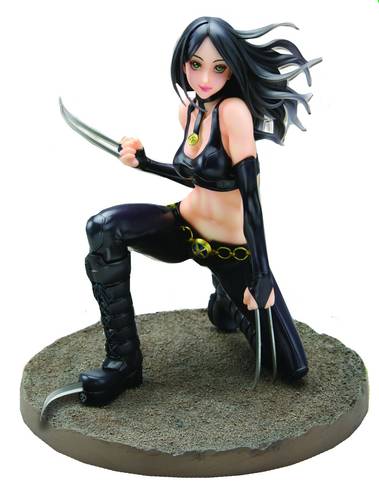 Renowned artist Shunya Yamashita redesigned Marvel Comics' mutant hero X-23 for the Marvel x Bishoujo: X-23 Statue from Kotobukiya, the best-selling Toy product to specialty retailers in April. Kotobukiya had a strong month overall in April with three products in the top ten, including the Marvel: Magneto Fine Art Statue at #2 and the Star Wars: Obi-Wan Kenobi "Final Battle" ArtFX Statue at #4.
DC Direct had two proudcts in the top ten, led by the Batman Bust, based on artwork by Gary Frank, at #5. Also in the top ten were the StarCraft Premium Series 2 Action Figures, based on the best-selling real-time strategy game from Blizzard Entertainment, at #6.
Other manufacturers in the top ten include Beautiful Plastic (the Simpsons Series 2 Mini-Figures ranked #7), Diamond Select Toys (the Femme Fatales: Raven Hex PVC Statue ranked #8), Kenner (the Star Wars Vintage Action Figures ranked #10), and Square Enix (the Metal Gear Solid Play Arts ~Kai~: Cyborg Ninja Figure ranked #3).
TOP 25 TOYS
Based on Total Retail Dollar Sales of Products Invoiced in April 2012
DOLLAR
RANK
QTY
RANK
ITEM
CODE
DESCRIPTION
VENDOR
1
2
SEP111717
MARVEL X-23 BISHOUJO STATUE
KOT
2
18
SEP111715
MARVEL MAGNETO FINE ART STATUE
KOT
3
3
JAN121895
MGS PLAY ARTS KAI CYBORG NINJA AF
SQU
4
20
SEP111714
SW OBI-WAN KENOBI ARTFX STATUE FINAL BATTLE VER
KOT
5
11
DEC110334
BATMAN BUST
DC
6
5
DEC110338
STARCRAFT PREMIUM SER 2 MASTER CASE ASST
DC
7
55
DEC101455
SIMPSONS MINI FIG 20PC BMB DISP SER 02
BEA
8
8
NOV111473
FEMME FATALES RAVEN HEX PVC STATUE
DIA
9
77
FEB121586
GEARS OF WAR 3 SERIES 2 AF ASST
NEC
10
62
JAN121809
SW VINTAGE AF ASST 201202
KEN
11
65
FEB121529
AVENGERS EARTHS MIGHTIEST HEROES AF ASST 201202
KEN
12
1
JUL101590
SW BOBA FETT BUST BANK
DIA
13
69
FEB121578
SW VINTAGE AF ASST 201203
KEN
14
16
JAN121728
CAPTAIN ACTION DLX AF
ROU
15
21
OCT111785
DBZ SUPER SAIYAN 3 SON GOKU S.H.FIGUARTS AF
BLU
16
35
JUL111884
IRON MAN UNMASKED MINI-BUST
BOW
17
22
JAN120392
AME COMI RAVEN ANGEL OF AZARATH VAR PVC FIG
DC
18
4
AUG118183
BATMAN LEGACY HARLEY QUINN AF
MAT
19
24
JAN120393
AME COMI RAVEN DEMON DAUGHTER VAR PVC FIGURE
DC
20
49
JAN120612
HALO 10TH ANNIVERSARY SERIES 2 AF ASST
TMP
21
70
FEB121571
EVIL DEAD 2 SERIES 1 AF ASST
NEC
22
7
AUG118184
BATMAN LEGACY NIGHTWING AF
MAT
23
53
FEB121527
GI JOE MARAUDERS & DREADNOKS AF SET
BIG
24
13
JAN121730
CAPTAIN ACTION CAPTAIN AMERICA DLX COSTUME SET
ROU
25
14
JAN121729
CAPTAIN ACTION SPIDER-MAN DLX COSTUME SET
ROU
This information may not be reproduced in any format without the express permission of Diamond Comic Distributors.
How does Diamond calculate the charts? It all starts at the comic book shop.
Data for Diamond's sales charts — which include the monthly market shares and all top product charts — are compiled by Diamond Comic Distributors from a universe of over 3,500 accounts, comprised of comic book specialty shops and other merchant stores and buyers. The shops are primarily located in North America, with a percentage of sales also to international stores and buyers located throughout the world. The account base includes not only brick-and-mortar comic book specialty shops, but also Internet stores, chain stores, and other specialty stores.
Unit and dollars sales are calculated based upon orders invoiced and shipped to Diamond accounts during any given month, minus any copies that are distributed free of cost.