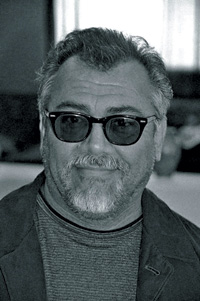 This month's featured creator is…
Gilbert Hernandez
Along with his brothers Jaime and Mario, Gilbert Hernandez revolutionized comics with the release of the first issue of Love and Rockets in 1982.
His early stories — an exquisitely drawn, unique blend of Southern California punk rock and sci-fi — soon made way for a cycle of more realistic stories originally set in the mythical Central American town of Palomar, centered on a richly detailed group of female characters, including the hammer-wielding Luba.
Now, 30 years in, Love and Rockets is still going strong, and the brothers debuted the latest "ish", Love and Rockets New Stories #5 (JUN121130), at this summer's Comic-Con International, where they were featured guests of the con.
Classic or Current works by Gilbert Hernandez…
Heartbreak Soup: Palomar Vol. 1 TP (NOV063555)
Human Diastrophism: Palomar Vol. 2 TP (MAY073453)
Beyond Palomar: Palomar Vol. 3 TP (SEP073627)
Luba HC (NOV084061)
Luba: The Book of Ofelia TP (OCT052978)
Luba: Three Daughters TP (JUN063111)
Gilbert Hernandez, what are you reading?
Paying For It by Chester Brown— One of my favorite comics ever.
Paying For It HC (MAR111105)
My Friend Dahmer by Derf Backderf—My favorite graphic novel about growing up since Jason's Hey, Wait...
My Friend Dahmer SC (NOV110675)
Jason: Hey, Wait… GN (NOV110675)
Setting the Standard by Alex Toth—The Man!
Setting the Standard: Alex Toth GN (JUN111098)
Any of the E.C. Segar Popeye collections from Fantagraphics. It's true: the funniest comic ever!
Popeye Vol. 1: I Yam What I Yam HC (JUL063133)
Popeye Vol. 2: Well Blow Me Down HC (AUG073644)
Popeye Vol. 3: Let's You and Him Fight HC (AUG084050)
Popeye Vol. 4: Punder Island HC (MAY090847)
Popeye Vol. 5: Wha's A Jeep? HC (OCT101016)
The Hidden by Richard Sala—One of my all-time favorite cartoonists.
The Hidden HC (MAY111081)
Are you following PREVIEWSWorld on Twitter yet?