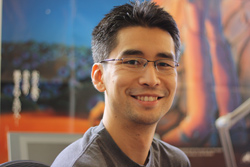 This month's featured creator is…
Kazu Kibuishi
Kazu Kibuishi is the Eisner-nominated creator of The New York Times best-selling Amulet series of graphic novels.
His resume doesn't stop there. He is also the creator of Copper, the founder and editor of the Flight anthologies, a critically acclaimed comic series, and the creator of Daisy Kutter: The Last Train, which was named a YALSA Best Book for Young Adults.
He lives in Alhambra, California with his family. Visit him at www.boltcity.com.
Classic or Current works by Kazu Kibuishi…
Copper GN (NOV090804)
Amulet Volume 1: Stonekeeper GN (JUN121163)
Amulet Volume 5: Prince of the Elves GN (JUN121162)
Kazu Kibuishi, what are you reading?
RASL by Jeff Smith—Not only is this a great hard-boiled thriller, it is infused with Jeff's fascination with Nikola Tesla. Creator of Bone + Science = Win!
Bone One Volume Edition SC (MAR058205)
Smile by Raina Telgemeier—Well, I read this a while ago, but I'll read it again; simply one of the best graphic novels out there for young readers! Her new book, Drama, is coming out, and I would put that at the top of my most anticipated titles!
Smile TP (DEC090873)
Sidekicks by Dan Santat—Dan is one of the funniest and brightest new comic artists on the scene. Kids will love this book, it's hilarious!
Sidekicks GN (APR111063)
Are you following PREVIEWSWorld on Twitter yet?