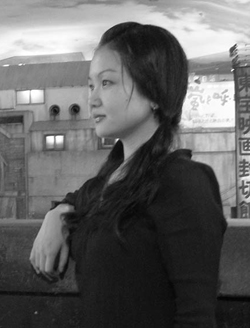 I'm an artist who does comics, paintings, illustrations and toy designs. I was born in Tokyo in 1973 and have been drawing ever since I can remember. I already wanted to become a professional artist when I was three, and the dream came true 20 years later.
The main thing that influenced me was '70s Japanese cute culture such as girls' comics, animations, toys and Sanrio merchandise, but I was also influenced a lot by different art forms from different countries as I was developing my art style.
What are your favorite projects you've contributed to over the past decade?
It's very difficult to pick as all my projects are important for me. The projects that felt different and unusual for me were: Designing a Piñata for an exhibition in Mexico, taking part in Sanrio's 50th anniversary art exhibition, doing my version of Spider-Man for a Marvel anthology book, designing My Little Pony for Hasbro, and collaborating with Fornarina, an Italian apparel company on products and installation for their fashion show.
What are you currently working on?
I'm working hard on the paintings for my next solo show that runs starts from March 16th at Narwhal art project in Toronto. Am also working on my new website, volume 2 of the US edition of my graphic novel Little Fluffy Gigolo Pelu, some gig poster designs, my new art book etc., etc. ...
Junko Mizuno, what are you currently reading?
Weathercraft: A Frank Comic by Jim Woodring
I've always loved Jim Woodring's work. It makes me smile and stimulates my brain.
Weathercraft HC (FEB100912)
Hard Boiled by Frank Miller & Geof Darrow
This is my all-time favorite. I never get tired of looking at Geof Darrow's art!
Hard Boiled TP (STAR11074)
Doing Time by Kazuichi Hanawa
I've read the Japanese edition over and over again and now I'm reading it in English. The story is about a life in jail, but it's strangely fun.
Doing Time GN (Currently Out of Print)
Tezuka's Black Jack Vol. 1 by Osamu Tezuka
I read all the episodes in Japanese when I was a kid but couldn't help buying the U.S. edition because the book design was so beautiful.
Tezuka's Black Jack Vol. 1 TP (AUG084350)
Hell Baby by Hideshi Hino
Another all-time favorite of mine. My first art book was named after this book.
Hell Baby GN (Currently Out of Print)
Are you following PREVIEWSWorld on Twitter yet?