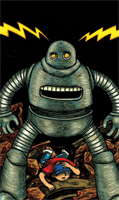 Having skewered super-heroes and mixed it up with mixed martial arts masters, critically acclaimed writer/artist Jeffrey Brown ventures into exotic new realms in Sulk Volume 3: The Kind of Strength That Comes from Madness GN.
This is the latest addition to the Sulk library from Top Shelf Productions that's listed in the August PREVIEWS for October shipping.

Sulk has clicked within and beyond Brown's circle of fans with its broad focus on a variety of subjects that appeal to readers of every genre and followers of pop culture.
In Volume 3, Brown turns fantasy and science fiction on its head — or, more accurately, tilts it to one side.
See two brothers deal with a giant monster rampaging through their city! Observe an 11-year-old genius and his robot best friend attempt to adjust to college life! View other events transpire involving pirates, time travelling babies, martial arts masterminds, and...more!
Check out the interiors for Volume 3!
Throw in an all-new short story from Elfworld and you have a 64-page, black-&-white Sulk that gives your mature readers something to smile about!
This volume is now ready to pre-order at your local comic shop.
| | | |
| --- | --- | --- |
| Item Code | Description | Price |
| AUG091077 | SULK V 3 KIND O/STRENGTH COMES FROM MADNESS (MR) | $6.00 |
These previous volumes are in stock and ready to ship to your local comic shop now!
| | | |
| --- | --- | --- |
| Item Code | Description | Price |
| OCT084393 | SULK GN VOL 2 DEADLY AWESOME (MR) | $10.00 |
| AUG084323 | SULK GN VOL 1 BIGHEAD & FRIENDS (MR) | $7.00 |
Check out the interiors for Volume 2!
Check out the interiors for Volume 1!