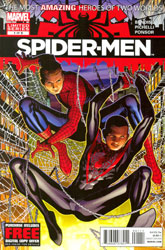 Publisher: Marvel Comics
(W) Brian Michael Bendis
(A) Sara Pichelli (Cover) Jim Cheung

This June - history will be made for the Marvel Universe. Brian Bendis gets inside the head of the one-and-only Peter Parker to kick off this series that unites the original webhead with his rookie alternate universe counterpart.
Things will unfold not in a way you would expect. And that's what makes this rollercoaster ride all the more enticing.

Item Code: APR120603
Price: $3.99
MARVEL PREVIEWS Page #19
In Shops 6/13/2012
Are you following PREVIEWSWorld on Twitter yet?