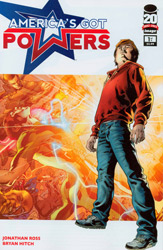 Publisher: Image Comics
(W) Jonathan Ross
(A/Cover) Bryan Hitch
Welcome to America's Got Powers! It's the biggest TV show on Earth, where the chance to win fame, fortune and get laid are dangled in front of a generation of super-powered teens. All they have to do is WIN. Who is the fastest, the strongest or the greatest? Who survives? Young Tommy Watt's dreams of being the greatest hero of them all might just be shattered when the greatest show on the planet begins to reveal it's dark heart.

Item Code: FEB120402
Price: $2.99
PREVIEWS Page #180
In Shops 4/11/2012
Download the preview
Are you following PREVIEWSWorld on Twitter yet?