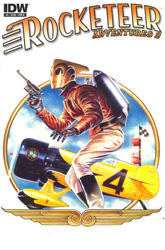 Publisher: IDW Publishing

(W) Paul Dini & Various
(A) John Paul Leon & Various
(Cover) Darwyn Cooke, Dave Stevens

The second star-studded issue of Rocketeer Adventures streaks into the skies with three high-flying tales of derring do! We start with a story on a grim battle field and race to save a soldiers life. Next up is a jealous Cliff keeping an eye on Betty in his own inimitable way. Last is a run-in with a Hollywood icon in danger!

Item Code: FEB120336
Price: $3.99
PREVIEWS Page #158
In Shops 4/18/2012
Are you following PREVIEWSWorld on Twitter yet?