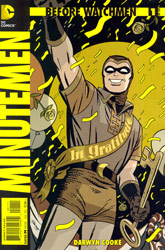 Publisher: DC Comics
(W) Darwyn Cooke, Len Wein
(A) Darwyn Cooke, John Higgins
(Cover) Darwyn Cooke
"Little did we know that poor boy would lead to the end of us all." Plus: Don't miss the Crimson Corsair backup story by writer Len Wein and artist John Higgins! This issue is also offered as a combo pack edition with a redemption code for a digital download of this issue. Mature Readers.
Item Code: APR120137
Price: $3.99
PREVIEWS Page #74
In Shops 6/6/2012
Are you following PREVIEWSWorld on Twitter yet?