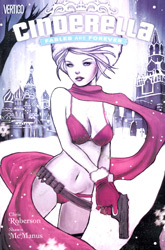 Publisher: DC Comics/Vertigo

(W) Chris Roberson, Bill Willingham
(A) Shawn McManus
(CA) Chrissie Zullo

Fabletown's favorite secret agent and bon vivant Cinderella is back on the job in this title collecting the hit mini-series!
Someone is killing sorcerers out on the Farm, and all signs point to Cinderella's archnemesis from the old days.
The only problem is, Cinderella has always believed that her nemesis has been dead for years.

Item Code: JAN120331
Price: $14.99
PREVIEWS Page #141
In Shops 4/18/2012
Are you following PREVIEWSWorld on Twitter yet?