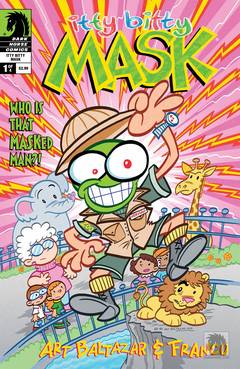 (W/A) Art Baltazar, Franco
The Mask is back, and it's Herman Shazbert's turn! When the mild-mannered zookeeper buys his wife a strange mask, the whole family wants to try it on! But watch out, Grandma Shazbert-it will put qu...
>>
Publisher: DARK HORSE COMICS
Item Code: SEP140048
In Shops: 11/12/2014
SRP: $2.99
(W) Fred Van (A) Maurizio Rosenzweig, Moreno DiNisio (CA) Juan Doe
Are you near-death experienced? Framed architect-turned-thief Jericho Way has discovered he's a Resurrectionist, one of a select group of people who can not only remember their past lives, but beco...
>>
Publisher: DARK HORSE COMICS
Item Code: SEP140019
In Shops: 11/12/2014
SRP: $3.50