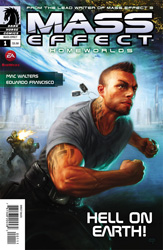 Publisher: Dark Horse Comics
(W) Mac Walters
(A) Eduardo Francisco
(Cover) Anthony Palumbo
Mass Effect 3 lead writer Mac Walters kicks off a new series of single-issue stories featuring heroes and adventures essential to the story of BioWare's latest blockbuster!
Each issue will star one of the main characters of Mass Effect 3 in a story written by the BioWare writer who wrote that character in the game-beginning with a Mac Walters-penned tale of brash young gun James Vega!

Item Code: FEB120018
Price: $3.50
PREVIEWS Page #40
In Shops 4/25/2012
Are you following PREVIEWSWorld on Twitter yet?