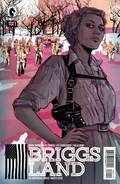 (W) Brian Wood (A) Mack Chater (CA) Brian Wood, Mack Chater
Briggs Land, nearly a hundred square miles of rural wilderness, contains the largest antigovernment secessionist movement in the United States. When matriarch Grace Briggs wrests control of the ope...
>>
Publisher: DARK HORSE COMICS
Item Code: JUN160011
In Shops: 8/17/2016
SRP: $3.99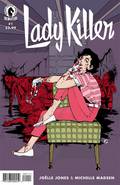 (W/A/CA) Joëlle Jones
The killer housewife is back! The Schuller family has moved to Cocoa Beach, Florida, where life carries on as usual. Josie continues to juggle Tupperware parties, her kids, and a few human heads. H...
>>
Publisher: DARK HORSE COMICS
Item Code: JUN160017
In Shops: 8/3/2016
SRP: $3.50