(W) Paul Tobin (A/CA) Juan Ferreyra
Declan has gone from a mere human to a reluctant hero-all while the subject of the horrific machinations of the monstrous creature Nimble Jack. But our hero's trials have only begun, as Jack flits...
>>
Publisher: DARK HORSE COMICS
Item Code: JUL150061
In Shops: 9/30/2015
SRP: $3.99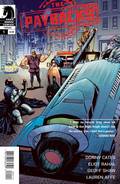 (W) Donny Cates, Eliot Rahal (A) Geoff Shaw (CA) Lauren Affe
Heroism doesn't come cheap, so when superheroes borrow money to finance their genetic enhancements or crime-fighting supercomputers, their debts make student loans look like IOUs! Enter the Payback...
>>
Publisher: DARK HORSE COMICS
Item Code: JUL150091
In Shops: 9/16/2015
SRP: $3.99