PREVIEWSworld's Featured This Week Comics & Graphic Novels for 9/28
Sep 25, 2016
Every week PREVIEWSworld calls attention to those books and graphic novels which stand out from all the rest. These titles from Premier Vendors and independent publishers should be at the top of your list, and can be found at your local comic shop on September 28.
Tarzan On The Planet Of The Apes #1
Dark Horse Comics
(W) Tim Seeley, David Walker
(A) Fernando Dagnino
(CA) Duncan Fegredo
Raised as brothers but separated by slave traders, Tarzan and his ape brother Caesar reunite when the war between man and ape takes them from the jungles of Africa to the center of the earth.
Item Code: JUL160087
Price: $3.99
PREVIEWS Page #56
In Shops 9/28/2016
Teen Titans: Rebirth #1
DC Comics
(W) Ben Percy
(A/CA) Jonboy Meyers
The Teen Titans are farther apart than ever before...until Damian Wayne recruits Starfire, Raven, Beast Boy and the new Kid Flash to join him in a fight against his own grandfather, Ra's al Ghul! But true leadership is more than just calling the shots-is Robin really up to the task? Or will the Teen Titans dismiss this diminutive dictator?
Item Code: JUL160280
Price: $2.99
PREVIEWS Page #95
In Shops 9/28/2016
Batman Beyond: Rebirth #1
DC Comics
(W) Dan Jurgens
(A/CA) Ryan Sook
Six months have passed since the events of Batman Beyond #16. While areas of destruction remain in the outside world, Gotham City has made great strides toward reclaiming its bright future. But new threats arise and old adversaries may be coming back. And the question still remains: whatever happened to Bruce?
Item Code: JUL160269
Price: $2.99
PREVIEWS Page #90
In Shops 9/28/2016
Micronauts: Revolution #1
IDW Publishing
(W) Cullen Bunn
(A/CA) Chris Panda
Lost In Microspace! Plagued by scavengers, harried by agents of Baron Karza, and guided by the mysterious Time Travelers, the Micronauts make a HUGE discovery, and it is one that will transform everything they thought they knew about their universe.
Item Code: JUL160474
Price: $3.99
PREVIEWS Page #168
In Shops 9/28/2016
Saga #38
Image Comics
(W) Brian K. Vaughan
(A/CA) Fiona Staples
"The War For Phang," Part Two. When your babysitter's a ghost, death is never very far away. Mature Readers.
Item Code: JUL160774
Price: $2.99
PREVIEWS Page #235
In Shops 9/28/2016
Star Wars #23
Marvel Comics
(W) Jason Aaron
(A) Jorge Molina
(CA) Mike Deodato
The rebels have pulled off the impossible...they've stolen a Star Destroyer. But why? To what end? Can they hold her together? And who's in charge of this madness, anyway - Han or Leia?
Item Code: JUL161045
Price: $3.99
MARVEL PREVIEWS Page #82
In Shops 9/28/2016
Spider-Man/Deadpool #9
Marvel Comics
(W) Joe Kelly
(A/CA) Ed McGuinness
Her name is Itsy-Bitsy and she's Spider-Man and Deadpool's Worst Nightmare! A reminder - EVERY issue of this series has sold out SEVERAL times. Don't let the issue be spoiled while you wait for the third or fourth print of this book!
Item Code: JUL160972
Price: $3.99
MARVEL PREVIEWS Page #48
In Shops 9/28/2016
Lady Mechanika: La Dama De La Muerte #1
Benitez Productions
(W) Joe Benitez, M. M. Chen
(A) Joe Benitez & Various
(CA) Joe Benitez
After suffering a tragic loss, Lady Mechanika takes a trip to a small Mexican village just in time for their Día de los Muertos celebration. But the festivities turn truly deadly after the arrival of the Jinetes del Infierno, the mythical Hell Riders. A very special Day of the Dead Lady Mechanika three-part story!
Item Code: JUL161312
Price: $3.99
PREVIEWS Page #302
In Shops 9/28/2016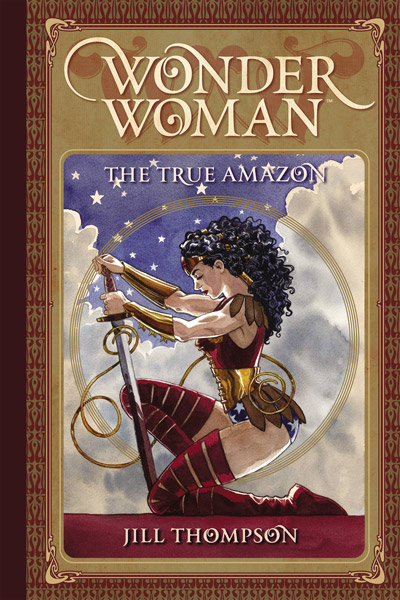 Wonder Woman: The True Amazon HC
DC Comics
(W/A/CA) Jill Thompson
An original graphic novel reimagining the early years of the Amazon Princess Diana, who would grow up to become Wonder Woman. This fully painted graphic novel is unlike any Wonder Woman tale you have ever read, told as only Eisner Award- winning writer/artist Thompson could. When young Diana has the fawning attention of a nation, she grows spoiled. But a series of tragic events take their toll, and Diana must learn to grow up, take responsibility, and seize her destiny.
Item Code: MAY160281
Price: $22.99
PREVIEWS Page #114
In Shops 9/28/2016
Bloom County Episode XI: A New Hope TP
IDW Publishing
(W/A/CA) Berkeley Breathed
In 2015, Pulitzer Prize-winning cartoonist Berkeley Breathed began (without warning!) producing all-new Bloom County strips-for the first time in more than 25 years! Breathed released the new Bloom County strips exclusively through his Facebook page, to the cheers of devoted and delighted fans everywhere. These brand new strips have never before been available in print-until now! All the wit, charm, and biting satire that are trademarks of Bloom County and Berkeley Breathed are clearly on display and evident in this handsome new volume. Featuring all your favorite characters: Opus, Milo, Bill the Cat, Steve Dallas, Cutter John, and many more. Bloom County has come home... and it's about time!
Item Code: JUL160568
Price: $17.99
PREVIEWS Page #180
In Shops 9/28/2016
Black Panther Epic Collection: Panther's Rage TP
Marvel Comics
(W) Don McGregor, Stan Lee
(A) Various
(CA) Gil Kane
In the 1960s, Stan Lee and Jack Kirby created an unprecedented string of classic comic-book heroes. But quite possibly the most iconic of them all was the high-tech king of Wakanda, the Black Panther! When the Panther began his own solo series, Don McGregor strove to meet Lee and Kirby's high standard with "Panther's Rage" - an epic adventure so huge it ranged across the savannah, into the deepest jungles and up snow-topped mountains. Over its course, McGregor would explore and expand the life and culture of the Wakandans and their African kingdom in compelling detail. Then, he sent the Black Panther into very different but still dangerous territory - the American South - seeking justice for a murder connected to the Klan and the Soul Strangler! Collecting Fantastic Four (1961) #52-53 and Jungle Action (1972) #6-24.
Item Code: JUL161089
Price: $34.99
MARVEL PREVIEWS Page #124
In Shops 9/28/2016
Disney Zootopia Comics Collection GN
Joe Books
The modern mammal metropolis of Zootopia is a city like no other because it's a place where no matter what you are — the biggest elephant or the smallest shrew — you can be anything. Fans of Disney animation will love this graphic-novel-style retelling of the movie, and an all-new Zootopia prequel featuring optimistic Officer Judy Hopps and the fast-talking scam-artist fox, Nick Wilde.
Item Code: APR161717
Price: $9.99
PREVIEWS Page #308
In Shops 9/28/2016